Last week, we introduced
Minimus Servers
to the market. At its core, Minimus is two things - less expensive, and a novelly simple method for using liquid cooling in your data center. It's an integrated package made up of purpose-built servers, standalone rack-based cooling, and power distribution.
Designed in partnership with high-quality OEM manufacturers like Supermicro and Gigabyte, the Minimus Server is a reliable, low-cost server that offers savings of 50% to 60% compared to Dell.com.
Why Minimus? Why now?
For years, Green Revolution Cooling has been helping customers design and build their own custom hardware so that they are able to take full advantage of their immersion cooling technology. Since GRC has deployed thousands upon thousands of these servers, paired with the fact that they boast a less than 1% failure rate, we're making the Minimus architecture widely available to the entire market. In conjunction with immersion cooling, Minimus Servers make data centers more efficient, more cost-effective, and easier to deploy - simple as that.
How do Minimus Servers cost a fraction of average OEM prices? Take a look at the image below.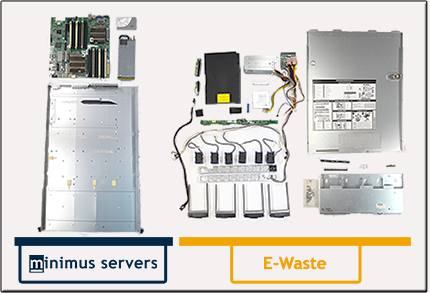 Don't pay for unnecessary components with fully customizable Minimus Servers
How to save 50% to 60% off over Dell.com
The Minimus offers you the ability to pick and choose the parts and features you need for your application like processors, memory, etc., while eliminating all the extraneous parts and features such as fans, intricate chassis, architecture for redundant power supplies, hard drive caddies, etc.
The result is a lean, low-cost server that is custom-built for your application.
High Reliability
Thousands of Minimus-designed servers have already been deployed in data centers around the world and are performing efficiently. In addition, they have proven to be some of the most reliable servers in application. This high reliability comes from the use of premium components from quality manufacturers like Supermicro, Gigabyte, Intel, and others, used in conjunction with naturally protective immersion cooling environments. All of these factors are what contribute to the Minimus's unmatched reliability.