---
INTRODUCTION:
Oil immersion cooling from Green Revolution Cooling has been on the market for over five years now. Over the years we've seen adoption of immersion liquid cooling expand to a number of industries, applications, and geographies. Here's why we think it's time to take a hard look at what immersion cooling could mean for your data center:
1. Cut your power bills in half
The ElectroSafe coolant used in the CarnotJet System is a good conductor of heat and also an electrical insulator. In fact, the clear, odorless, non-toxic, mineral oil blend has 1,200 times the heat capacity of air (by volume)! This superior conductivity and heat capacity help the CarnotJet System achieve a mPUE of 1.02, thereby helping reduce cooling energy by 95% (as compared to a traditional 1.7 PUE data center). Further, the removal of chassis fans and superior thermal performance, server energy is also reduced by up to 20%. The net effect is a 50% reduction in total data center power (peak and average).
Learn more about energy efficiency.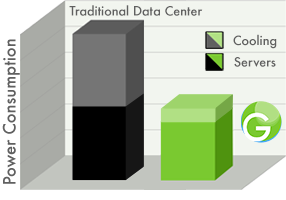 Power consumption of GRC vs Traditional Data Center
2. Build data centers for half the cost in a fraction of the time
The CarnotJet System comes preengineered in blocks and completely eliminates the need for CRACs, CRAHs, raised floors, humidity controls, and more. The system also helps downsize power and backup infrastructure proportional to peak power reduction. Read more >>

3. Double the capacity of your existing data centers
Why build-out when you can 'build-in'? Retrofit to free up space and power to accommodate up to 100% more servers in your data center.
Click here to download our white paper on floor space optimization >>
4. Cut more than $300 off of every server
Get rid of all the unwanted components on your hardware. Oil immersion cooling from GRC enables hardware optimization that can cut costs by more than $300 per server!
Click here to download our Vienna Scientific Cluster case study on hardware optimization >>
5. Proven performance
Some of world's biggest operators are turning to GRC to reduce data centers operation costs, including:
Three of the

top

10 largest telecoms in the world
One of the world's largest search engines
Numerous government agencies, including the DoD, Air Force, NSA, and others
Numerous

top

HPC facilities worldwide
And many others. In fact, during 2014 more than 15,000 servers went into GRC systems!
See the complete list of publicly disclosed installations >>
---

CONCLUSION:
Oil immersion cooling from Green Revolution Cooling is revolutionizing the way data centers are designed, constructed, and operated. The technology has proven its mettle in a breadth of applications and geographies. Contact us using the button below to learn more about how this technology can help you build and operate more efficient and cost-effective data centers.