A 2015 research report from IDC1 indicates that the market is increasingly abandoning big brand, OEM servers in favor of "whitebox" (unbranded) servers made using parts from ODM suppliers.
HP's server sales went down almost 30% between 2010 and 2015.
Dell's sever sales were pretty much flat with a 4.5% annual (server) revenue growth. Dell's sales seem to be increasingly focused on whitebox style servers for hyperscale companies.
IBM's server sales are down almost 70% during the same 5 year period (2010-2015).
A separate study released by Lawrence Berkley National Labs2 shows that while the major players are in decline, the market overall is getting bigger with white box servers taking over the market.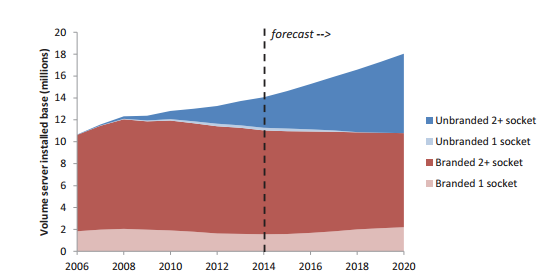 Figure 1 "unbranded" (whitebox) server sales vs traditional server sales (Source: LBNL2)
We, at GRC are seeing the same trends in sales. Increasingly we are working with organizations who are considering a switch to whitebox servers due to their economics.
As highlighted in an earlier blog titled "Server Cost Breakdown By Components", 90% of the cost of a server is driven by components such as the CPU and memory. Hence this cost remains pretty much the same regardless of the brand, or the lack of.
Further, since most of the key components come from the same ODMs, the performance and reliability of whitebox servers is typically at par with similar OEM offerings. We studied the failure rate of over 2,000 Minimus style, whitebox servers running in GRC's CarnotJet system for over a year. We found the failure rate of components to be at par or better than similar OEM offerings running in air.
The economics of whitebox servers make a strong case for their adoption, and the hyperscalers have already proven the viability of the shift. Perhaps it's time for your organization to make the switch, if you haven't already done so? We'd love to hear your thoughts on whitebox servers, leave us a comment below to keep the discussion going.
1 https://www.nextplatform.com/2015/06/04/x86-servers-dominate-the-datacenter-for-now/
2 https://eta.lbl.gov/sites/all/files/publications/lbnl-1005775_v2.pdf